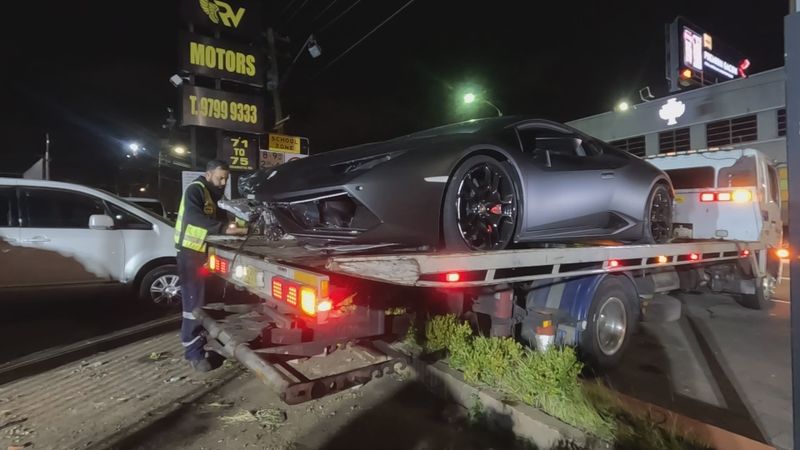 source:9news.co.au
Lamborghini crash in Sydney
In a shocking incident that unfolded on Friday night, an unidentified individual in Sydney experienced a far worse ordeal than most. The driver of a luxurious Lamborghini was involved in a catastrophic crash, destroying their vehicle, before promptly fleeing the scene.
During the late hours, a striking matte black Lamborghini careened into three nearby cars, astonishingly managing to come to rest atop one of them in the inner western suburb of Concord, Sydney. Fortunately, the other vehicles happened to be situated within a car yard, ensuring that no injuries were reported.
Local Burwood officers swiftly responded to the accident, which occurred shortly after 9:40 p.m. along Paramatta Road. However, upon the arrival of the police and fire department, the driver had mysteriously vanished, leaving behind a trail of questions and speculation. Authorities have confirmed that investigations are currently underway.
"The driver of the sports car had departed from the scene before police arrived, and our inquiries are ongoing," stated a spokesperson, emphasizing the efforts being made to piece together the details of the incident. Thankfully, there have been no reports of any injuries stemming from this event.
Based on available photographs, it appears that the vehicle involved in the crash is a Lamborghini Aventador. Cars Guide indicates that the latest 2023 range of this model is priced between $789,809 and $825,914 when purchased brand new. Previous editions, sold between 2011 and 2018, fetched prices ranging from $223,000 to $653,000. Notably, the Lamborghini Aventador boasts a remarkable maximum speed of 335 kilometers per hour.
The local fire department, who also responded to the scene, reported that it seemed the Lamborghini driver had "lost control" of the vehicle. Furthermore, due to one of the cars involved being powered by LPG (liquefied petroleum gas), utmost caution was exercised to avoid any damage to the gas cylinders. The combined efforts of the dedicated personnel from Burwood Fire and Rescue Station successfully stabilized and removed the cars involved, ensuring that no further harm was incurred.
As the investigation into this Lamborghini crash in Sydney progresses, authorities are determined to uncover the identity of the elusive driver. The sensational events of that fateful night have left a lasting impact on the local community, serving as a reminder of the importance of responsible driving and the potential consequences of reckless behavior on the roads.